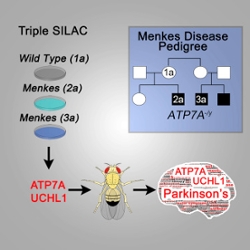 The Faunez Lab published, "Rare Disease Mechanisms Identified by Genealogical Proteomics of Copper Homeostasis Mutant Pedigrees", in Cell Systems. Stephanie Zlatic is first author.
In this work, the team looked at the proteomes of two individuals with Menkes disease, and compared them to those of their unaffected siblings and their parents. The same principle could be used to look at other aspects such as transcriptomes, or epigenetic changes to DNA or RNA. Faundez said the team decided to focus on protein expression because other types of changes "in the end result in changes in protein expression. . . . [it] is the closest element of all the elements available" to cell behavior.
Click
here
to link to the
BioWorld
interview article.
Click
here 
to link to the highlight in
The Scientist
.